[tp_empty_space dp_height="165px" tab_height="120px" mob_height="80px"]
[tp_empty_space dp_height="31px" tab_height="21px" mob_height="11px"][tp_adv_text_block desktop_text_size="18px" desktop_text_line="33px" desktop_text_letter_space="0px" content_use_theme_fonts="google-fonts" content_google_fonts="font_family:Open%20Sans%3A300%2C300italic%2Cregular%2Citalic%2C600%2C600italic%2C700%2C700italic%2C800%2C800italic|font_style:400%20regular%3A400%3Anormal" desktop_text_color="#6f6f6f"]Renowned for its classic diamond jewelry, Martin Flyer has grown since its inception to become one of the most recognized bridal designers in America, where it now boasts unlimited manufacturing resources, enhanced customer service and design teams, and an exceptionally large diamond inventory.[/tp_adv_text_block][tp_empty_space dp_height="33px" tab_height="20px"][tp_button style="style-12″ btn_text="SHOP MARTIN FLYER JEWELRY" font_size="14px" line_height="10px" letter_spacing="0px" btn_padding="14px 25px" btn_use_theme_fonts="google-fonts" btn_google_fonts="font_family:Roboto%3A100%2C100italic%2C300%2C300italic%2Cregular%2Citalic%2C500%2C500italic%2C700%2C700italic%2C900%2C900italic|font_style:700%20bold%20regular%3A700%3Anormal" text_color="#48372c" text_hover_color="#ffffff" border_color="#48372c" border_hover_color="#48372c" normal_bg_hover_color="#48372c"][tp_empty_space dp_height="157px" tab_height="100px" mob_height="50px"]
[tp_animated_image image="25968″]
Martin Flyer Classic
The Unity collection of wedding and commitment bands with different organic textures are for both men and women. 'Unity' invokes the concept of "becoming one" as each handcrafted pairing were created from one ring, artistically separated and can be worn independently of the other.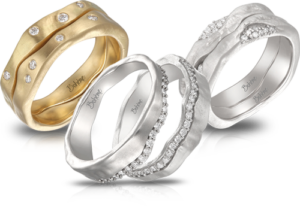 Martin Flyer Colors
This elegant and organic collection includes refined yet detailed engagement rings as well as wedding and commitment bands. The engagement rings feature high dome rose cuts as well as traditional round brilliant diamonds. The wedding bands can be worn either as a complement to the engagement rings or as stackers to enhance what they might already have.
Instagram has returned invalid data.